What is a comparison shopping engine (CSE)?
CSEs collect product information provided by participating eCommerce stores and then display that data as product listing ads on a search results page, in response to a customer's search query.
This way, shoppers can compare the prices, features and shipping costs of products from thousands of eCommerce stores in one place and then choose the store that provides the best value. Once a shopper has chosen the right product at the right price, they can click on the ad to be taken to the seller's website where they can buy the product.
Most CSEs operate on a "cost-per-click" basis, which means you pay when a customer clicks on your product listing ad and goes to your website. But there are CSEs that use a "pay for results" model, so even if a customer clicked through to your website, you don't pay if you didn't make a sale.
All you have to do is create an account on the shopping engine site, submit your product data feed, enter information about your business, and the CSE will do the rest for you.
While social media advertising and email campaigns can boost your return on investment, well-thought-out product listings on CSEs can help you increase your brand awareness, boost your eCommerce store's visibility, drive qualified traffic to your store and attract new customers. All of this can significantly boost your sales and revenue in a short time frame, so if you haven't considered using a CSE as another marketing channel you're likely losing out to your competitors. What's more, there's usually no setup fee, no minimum spend and no contract.
Traditionally the verticals that perform best on CSEs are ones that compete predominately on price, such as consumer electronics for example. But no matter what type of eCommerce store you have, you can list your products on CSEs and receive just as much traffic and sales as the big players. Here, we've compiled a list of 11 CSEs in Australia that can help you increase your eCommerce sales.
1. Google Shopping
Google's shopping engine is no doubt leading the charge when it comes to the CSE alternatives. Since launching in 2010, Google have slowly evolved their shopping platform from a "nice-to-have" addon for eCommerce stores, to an essential element of the marketing mix with over 1.5 billion product listings now available.
Google Shopping uses product data from your Merchant Center to show products to searchers at the most opportune time. This is significantly different to the way text ads have traditionally worked on Google AdWords, because they aren't only reliant on keyword phrases. These shopping ads are a smarter, more intuitive way to deliver your products to the right people at the right time.
One of the biggest changes in recent years for Google Shopping was the additional prominence these ads were given above the fold. Both in desktop and mobile searches.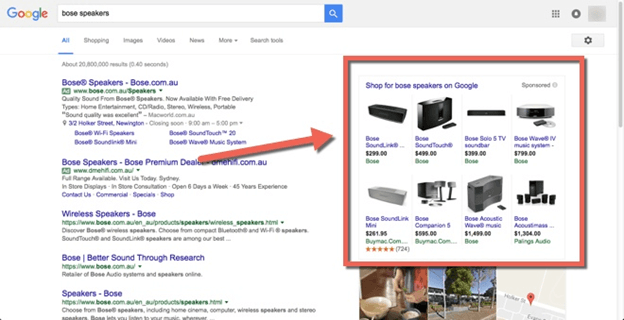 This high-value search placement brings me to Google's most obvious competitive advantage over other shopping engines – contextual relevance. They are placing highly-relevant products directly in front of consumers that are already actively seeking those products through a Google search. This relevance typically means a better conversion rate, and a higher return on investment for eCommerce sellers.
In the example above I have specifically searched for "Bose Speakers" and it has shown me a price comparison of a variety of Bose speakers from different online stores. As the search becomes more specific, the product comparisons become more relevant too.
If you run an eCommerce store with multiple products, setting up your product list so that it shows prominently within a Google search should be your top priority.
2. Bing Shopping
Bing Shopping Campaigns (BSC) was launched in Australia in 2015 and is available for PC, tablet and mobile. Bing Ads has an 11.5% market share and 167 million monthly searches in Australia. eCommerce stores can also use the power of Bing Network's 8 million unique searchers to put their business in front of customers searching for their product.
What makes Bing Shopping an attractive option compared to Google Shopping? Well the most obvious reason is that the Cost-Per-Click (CPC) on average is significantly lower, not to mention that you are competing with a lot fewer advertisers. With that being said, Google is a more established platform which can deliver somewhat consistent and predictable results. So there is a time and place for both of them.
Joining Bing Ads is free and you only pay when customers click on your ads. There's also no minimum fee for setting up your BSC. You can use your BSC to help manage your product ads in the following ways:
Show the products you want to sell and choose how much you want to pay per click.
View your products by brand or type to set suitable bids.
View insights on clicks, impressions and the average click-through rate or cost per click.
Find out how well your campaigns and even specific products are performing.
Import your Google AdWords Shopping Campaigns into Bing Ads.
Bing Ads appear on Bing search and do a great job of providing consumer-friendly results, as they include large images/names/prices of your products, descriptive text and your website. What's more, with Bing Ads you can reduce your average cost per click, improve conversion rates and improve your search spend ROI.
When customers search on Bing, their search terms will match your keywords and your product ad appears. Then people can click your ad and visit your website to buy your product.
As you can see below, I searched for "DVD Players" and it not only gave me a list of your typical DVD player but also TVs that have built-in DVD players, as well as DVD recorders.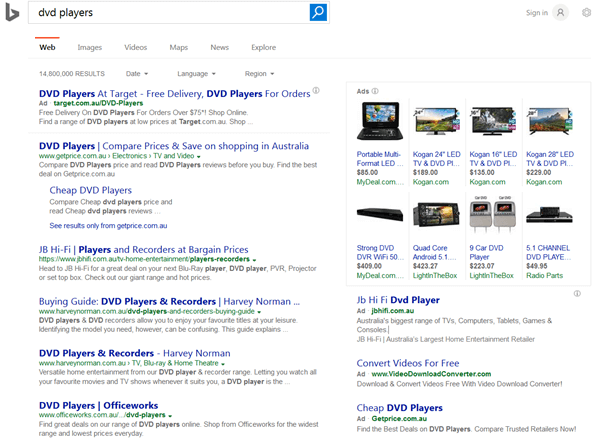 When I typed in "Blu-ray DVD Players", the results gave me exactly what I was looking for.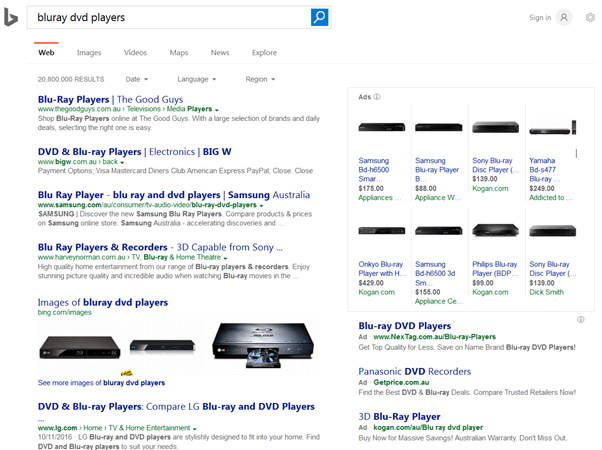 So when providing the names of your products to a CSE, make sure to be specific so a shopper can find the exact product you're selling.
3. MyShopping
MyShopping has operated since 2005 and has been the most effective stand-alsone CSE in the past for our clients due to its size. It attracts more than 3 million unique visitors each month and attracts only quality leads. So if your products are listed on the site, you'll expose your store to millions of people who are ready to buy your product.
7 million products are listed on the site from more than 2,000 Australian stores and there are 789,000 registered users.
By joining MyShopping's "Merchant Program", you'll not only get more shoppers to find you, you'll also increase your sales and decrease your advertising spend. Plus, there's no setup cost/fee – you only pay a referral fee when a customer clicks on your website. You can choose from two payment plans: a Monthly "Cap" Plan and a Super "Top-Up" Plan where you'll receive priority in keyword searches.
You can use the MyShopping rated star logo to allow customers to rate their shopping experience with your store and to build customer confidence in your brand. You can also participate in "Member Rewards" and offer vouchers and points in your ads to increase sales and web traffic.
You could even have your logo displayed next to each product you advertise to build recognition and confidence in your brand, or use the online bidding system to better manage your ROI.
To get started, send your product feed file to MyShopping with its HTTP location.  Your product ads will then be created using the information you supplied, e.g. product name, brand, model, description, category, price and links to images.
If your store sells Nike shoes, here's what your product ads will look like on the site.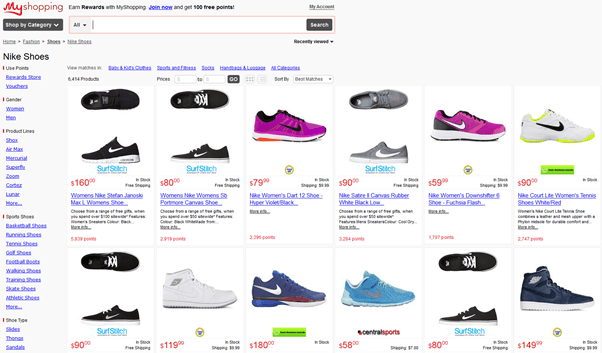 Like Bing Shopping, MyShopping's search results will display products that contain your search keyword. For example, simply searching for "Shoes" could show you ads for sandals too as they are a certain shoe type.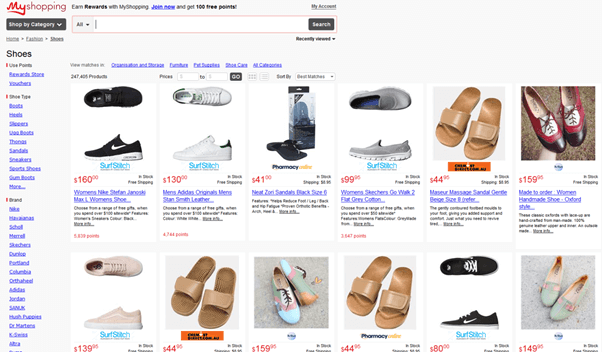 4. GetPrice
GetPrice was founded in 2005 and has been one of the top 10 eCommerce websites for a long time, with 616,000 registered users. This CSE covers a wide range of product categories, from computers to office supplies, and has more than 1,300 retailers on board. It lists over 2.5 million products and attracts over 3 million visitors every month.
After you sign up, for free, GetPrice will connect you with online shoppers who'll buy your products. The product ads work on a cost-per-click basis and there's no minimum spend amount or contract period. GetPrice also offers budget controls with monthly cap, sales tracking tools to measure conversion rates and ROI, and competitive pricing information.
This CSE compares prices across all popular products, covers all major Australian cities, and lists a 100% impartial catalogue of products and price comparisons across the country.
When I searched for "Printer" on the site, I got a list of printers where if only one of that printer was listed on the site, you'll see a link to "Go to shop". But if there were more than one of that printer, you'll see a link to "Compare 7 Prices" for example.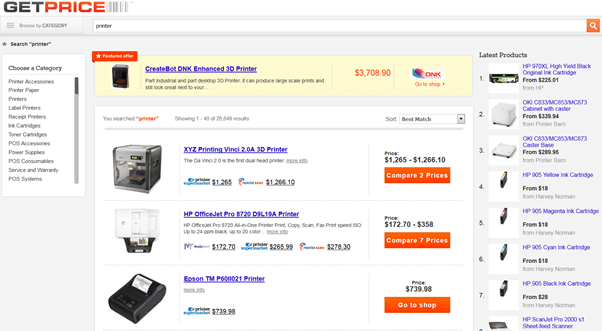 Searching for "Printer Paper" gave me a list of different types of printer paper as well as related products under the "Latest Products" section on the right-hand side of the page. The same goes for printers, where you'll find ink cartridges listed under the "Latest Products", although I think it may have been better if that section was titled "Related Products".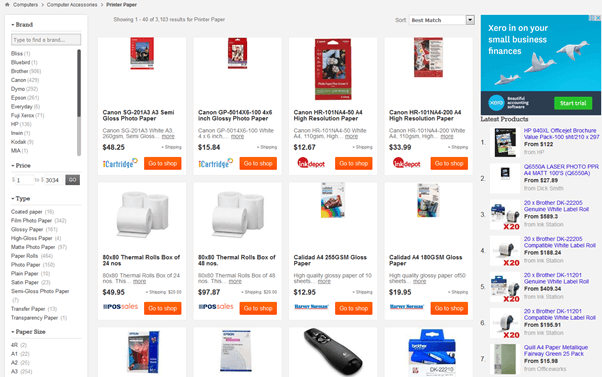 GetPrice can be used on PCs and multiple mobile platforms. You can get started by sending your product data feed to GetPrice in CSV, XML or TXT format, along with its URL location. Then they'll create the ads with the data you provided.
5. Au.Shopping
Au.Shopping has 737,000 users and is part of the eBay Commerce Network. A lot of traffic can be obtained from this CSE and there are millions of product offerings from hundreds of online merchants.
Au.Shopping empowers shoppers to make informed choices and drives higher sales for sellers. With its easy-to-use product search tools, time-saving navigational features and engaging content, shoppers can easily compare and buy products from eCommerce stores.
If you search for "Portable CD Player" and you want to get a discounted item so you pay less than the recommended retail price, you can easily find one on the top right-hand corner under "Products on Sale".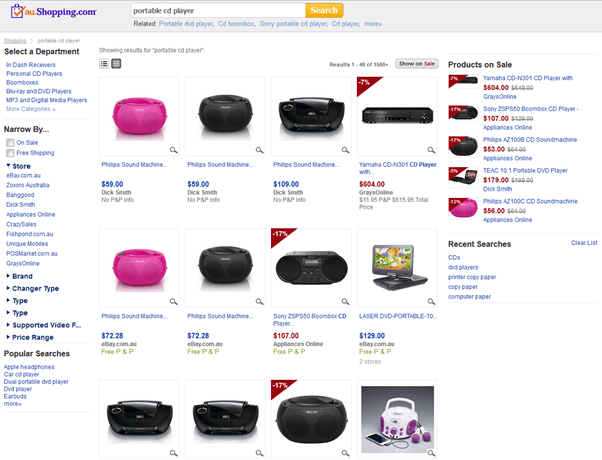 If you're an eCommerce seller, this CSE makes it quick and easy for people to find your products. Moreover, unbiased product reviews, comprehensive and trustworthy content, and lists of popular products and top brands help facilitate fast purchase decisions.
For example, on the site's front page, you can see the most popular products in mobile phones as well as a tab that'll take you to the top brands.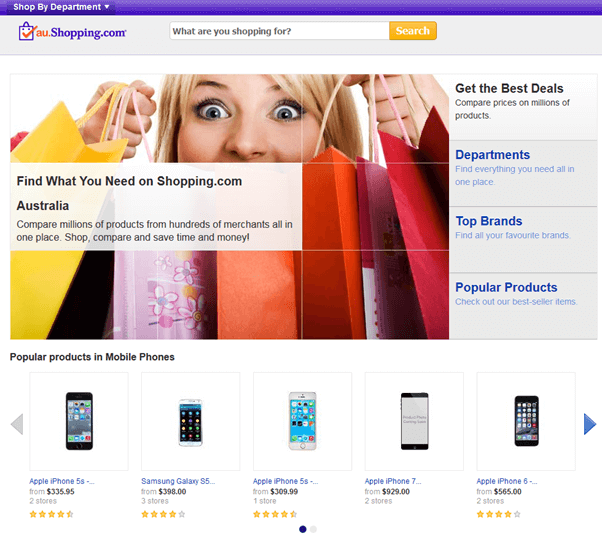 By joining the "Merchant Programme", you can put your product ads in front of millions of shoppers and those who are ready to buy will be delivered to your product pages. The only thing you have to pay for is direct clicks to your website and you can determine the price.
Au.Shopping also provides branding and sponsorship opportunities in order to maximise your exposure to the millions of people who visit the site every day.
6. ShopBot
ShopBot helps more than 50 million online shoppers to search for products, compare prices and buy in just a few clicks. The site has over 15 million products from more than 2,000 online retailers around the world.
By using this CSE, you'll get qualified shoppers delivered to your online store and a high conversion rate and ROI. They claim to have a  conversion rate that is 3x higher than any other channel, making it one of the most effective "Last-Click" channels in the market. They also claim, the return on advertising spend is 5x more than other CSEs.
If you're a new business or not widely known, listing your products with ShopBot and having your company's logo next to major retailers like Amazon will give customers a sense of trust. 73% of shoppers are more likely to buy from an unknown retailer if their products are listed on the site.
As you can see below, a company's logo is shown below the listed product, so you can see which stores offer the same products and then you can compare their prices and offers.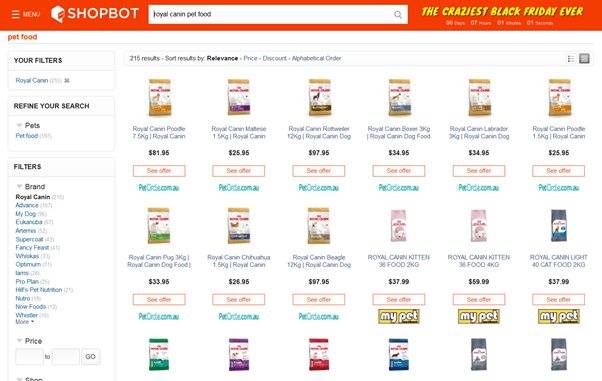 If you search for "Pet Food" in general, you'll be shown different types of products relating to pet food. But you can refine your search or filter results by choosing the relevant options on the left-hand side of the page.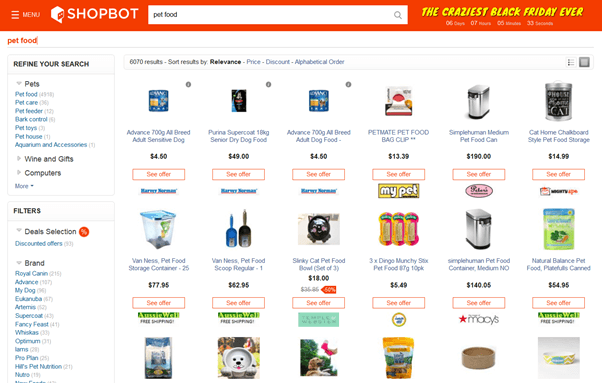 Getting started is quick and easy. Simply sign up for a new account, upload your products on ShopBot, and then your campaign will be live and ready. There's no setup fee and cancellation fee and you get to choose your monthly budget. You also only pay for the traffic you get. Additionally, you can choose a "Starter Plan" if just want to generate sales or a "Pro Plan" to maximise your online visibility.
ShopBot comes with a new feature called "SmartBid", which allows you to occupy the top spot of your category on search results, increasing the visibility of your products throughout the site. You can also boost your visibility with ShopBot's "Native Advertising Options", which includes direct advertising placements and sponsored listings on the site.
7. staticICE
staticICE is an Australian owned company with hundreds of thousands of products from over 200 retailers in Australia. It has millions of visitors each month, so you'll be able to reach ready-to-buy consumers across the country and generate more sales.
staticICE has targeted traffic as it's only focused on computer and technology related products such as computer software, digital cameras, hard disks and USB flash drives. So you can only reach an audience that's interested in computers and technology.
It has some of the cheapest prices for computer hardware and gadgets and the products and prices are regularly updated. It also shows popular searches.
While it has a "Tools" page where you'll find tools to make searching easier and an advanced search option, the user experience is quite poor, with the website being quite hard to navigate.
For example, you'll see ads on the top and right-hand side of the page which can be distracting and not relevant to the search query, and the product ads related to your search don't have any images and the text seem cluttered and isn't easy to read.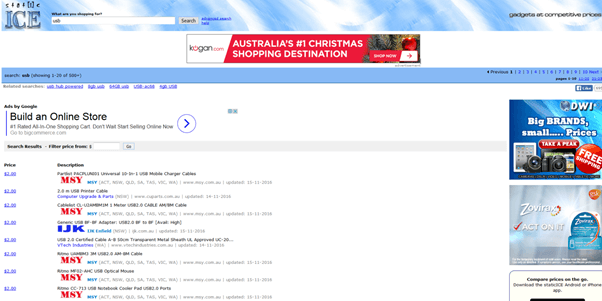 Unlike above where searching for a "USB" gives me USB cables/adapters/optical mouses, looking specifically for an "8BG USB" yields the results I want. The other good things I can say about the site is that it lists prices from cheapest to most expensive and it also highlights store names.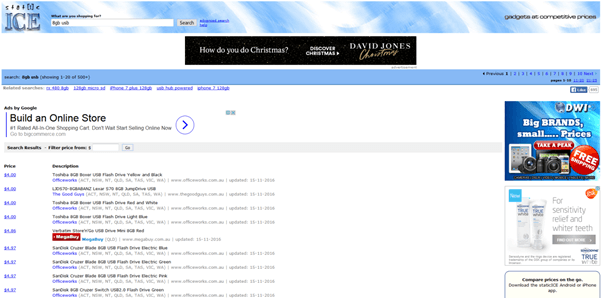 You can enhance your product listing by becoming a registered member and submitting your product feed's URL location. However, due to staticICE's limited resources, there's no guarantee that your site will be added or when it'll appear.
This CSE can be used on both desktop and mobile. A native app is provided for mobile devices.
8. ShopMania
ShopMania operates in 25 countries and has over 5 million unique visitors each month. It offers free shopping resources for consumers and connects them to online merchants to help them make smart and informed buying decisions.
By joining the "Merchant Program" and listing your products on ShopMania, you can drive quality traffic and buyers to your eCommerce store at a low cost and boost your sales. There are no hidden costs and the packages offered are based on the cost-per-click system so you'll only have to pay for the traffic you get. You can also control the value paid for every click.
Moreover, when you create an account, you can customise your shop page by adding your logo and a description of your shop, including the benefits of buying from your shop. You can also enter your business contact details, payment methods, and your shipping policy and rates.
You can change the layout and content in your shop, and include more product details, such as the product size and shape, if it's new or discounted, and stock availability. You can even keep track of and export all of your orders and find out which ones generate the highest revenue. You can then turn those customers into loyal customers.
You can also build a new online shop with ShopMania Biz, which is used by more than 5,000 shops from 16 countries. Your store will be subject to periodical reviews based on customer feedback.
Customers can search for products by category or brand. In this first example, searching for "Toys" gives me the results I expected and you can even search for specific toys.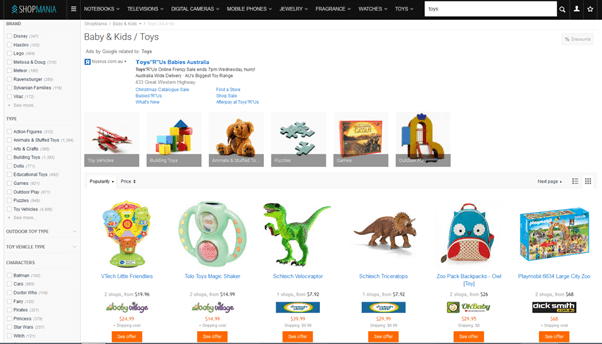 However, in this second example, although I'm looking for "Animals & Stuffed Toys" specifically, the results also show me products for pets.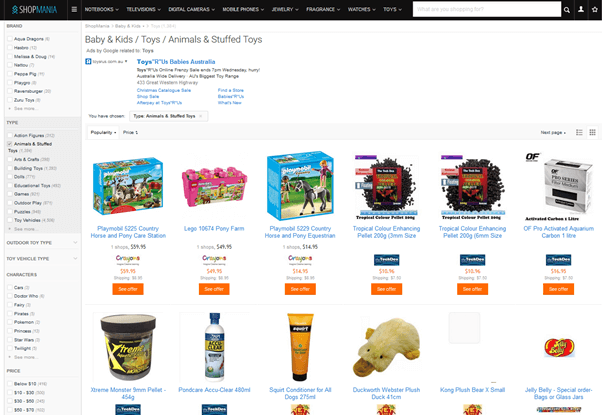 So when assigning your products to a certain category, make sure they go under the right one. You don't want your product to get lost amongst thousands of other products and never to be found just because it was listed in the wrong category.
9. Gimme Shopping Australia
Gimme Shopping Australia has more than 2 million products from over 1,000 Australian online stores. The products are updated on a regular basis. The site also lists discount codes, discount vouchers and coupon codes, as well as product and store reviews to help shoppers make informed decisions.
You can register for free and by joining, you'll boost traffic to your eCommerce store and get qualified leads. Gimme Shopping also offers inbound links to improve your search engine rankings.
If you're registered as an affiliated store and a visitor buys your product, Gimme Shopping earns a commission for the sale. The rate you pay for the commission is up to you.
This CSE uses a "pay for results" model instead of the "pay per click" system.  This means you don't have to pay if you don't make any sales. All sellers are given top priority, whether or not they pay Gimme Shopping.
To get traffic, receive more exposure and improve your ranking, provide your store name and URL, a description of your store and its key points of difference, product feed URL, and discount codes for customers.
Your product feed URL should have information that's current, relevant, clear, detailed and accurate. This'll help Gimme Shopping provide shoppers with the most relevant search results.
The website is easy to use and gives you all the information you need to find products from a wide range of stores. You can use the intelligent search or browse by category or store to refine your search (see below). Search results aren't manipulated, offering unbiased shopping search.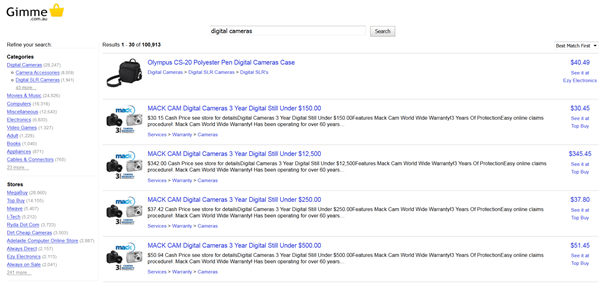 When searching for a "Canon Digital Camera", the products will be listed according to "Best Match First", but you can change it to "Cheapest First" or "Cheapest Last". So whether you appear on the top of the list for a particularly category will depend on the name and price of your product.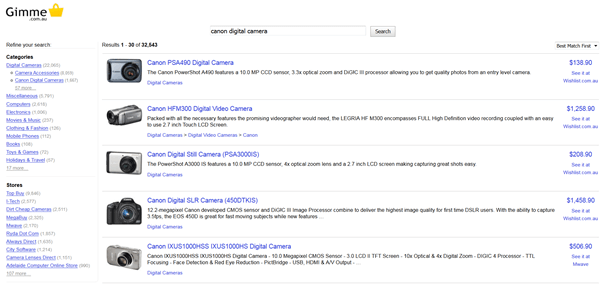 10. Comparison
Comparison is mainly focused on home appliances and consumer electronics. It lists more than 18,000 products, including loans and health & beauty products. You can also compare and donate to more than 46,000 charities.
More than 77% of users are actively researching to buy and 42% intend to buy.
This CSE offers a free product comparison service for shoppers as they accept advertising and sponsorships. When a shoppers clicks on a deal, ad or link to a third party, Comparison can earn a commission or advertising revenue. However, these ad and sponsorship arrangements don't affect how products are presented to shoppers.
Comparison offers their users unbiased, transparent and detailed product information, as well as buying guides, product ratings and reviews, and postcode mapping information.
To target Comparison shoppers, join the "Merchant Program" or place display ads on the site. Comparison maximises sales for sellers by turning their product data feed into highly targeted ads or attractive display ads, and by matching their ads to the product the shopper is searching for, which means a small number of matching ads are displayed instead of a long list of deals.
Display ads across the site can be targeted, from product category to specific product listings. Comparison also accepts advertising via Google AdSense.
You can browse by category, brand, store and price, and shortlist products based on relevant features and functions and then make a direct comparison.
Like GetPrice, Comparison also gives you a link to "Compare 9 Prices", for example, of the same product from different sellers. Having the cheapest price may just land you a customer.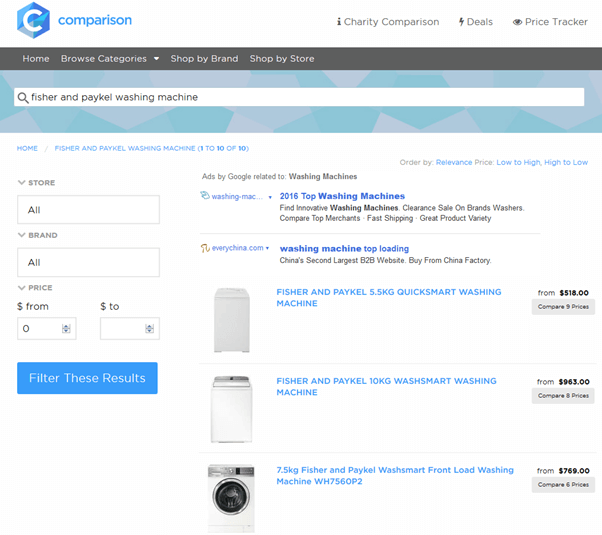 What's more, Comparison offers daily deals and best/hot deals, and a "Price Tracker" tool for shoppers. You'll also find lists of popular stores, popular brands and featured products on the front page to help shoppers in their search for the best deals.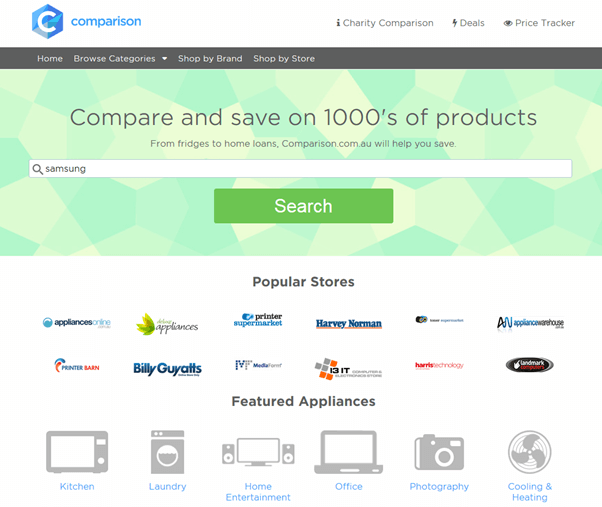 11. PriceMe
PriceMe is a new CSE in Australia that offers a free service for customers. It has more than 122,000 products from 55 retailers.
For retailers who sign up (you'll be taken to the New Zealand PriceMe site), they'll be able to drive quality traffic to their site that converts. Submit your product data feed after you sign up, including its URL location. PriceMe can also crawl your website for a small fee. But there's no listing fee, no commission on sales and no contract.
This CSE offers a pay-per-click model – you get charged a small fee when a shopper clicks through to your website. You determine the amount you pay for each new sales lead PriceMe generates. But there's a $20 minimum monthly fee if your spend is less than this amount.
Customers who create an account with PriceMe are able to set price alerts, create and customise their "Favourites" list, wishlist and other lists, and configure display options. Customers can also submit product reviews and shop for deals and discounts.
Products can be researched quickly and easily. You can search by item, category/department, price, retailer and popular brands. You'll also find a list of the latest products and the hot/most popular products, as well as detailed product specifications and comparison tables.
Depending on what you're looking for, the search filters will vary and you can choose to display the ads in "Gallery" form like shown below. Also, products with high star ratings will appear at the top.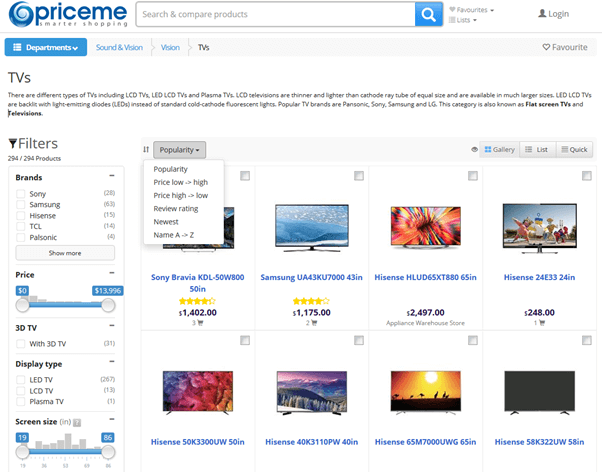 You can also view ads in "List" form and this time you can tell that the number beside the shopping trolley icon indicates the number of stores selling the same  product.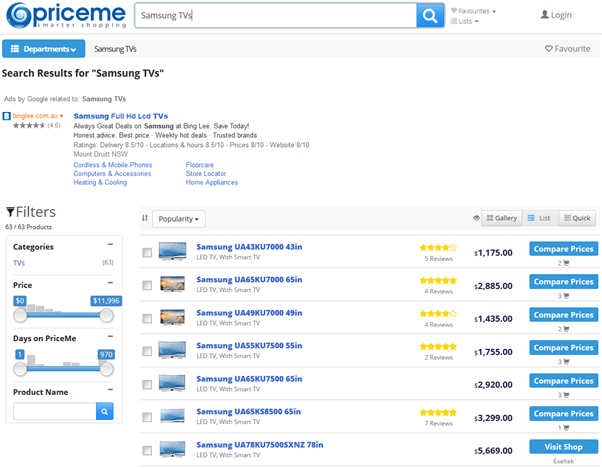 Conclusion
Comparison shopping engines are important for your eCommerce store marketing strategy, as they can help get your products in front of millions of qualified shoppers, boost sales and improve ROI.
The more sites you're registered with, the higher the chance of your store being seen almost anywhere online. This makes CSEs a powerful marketing channel.
With the barrier to entry for eCommerce businesses getting smaller by the day, any ounce of competitive advantage you can get could be the difference between success and failure, and CSEs might just be that brand booster that you have been looking for.